Birth Name: Paris Whitney Hilton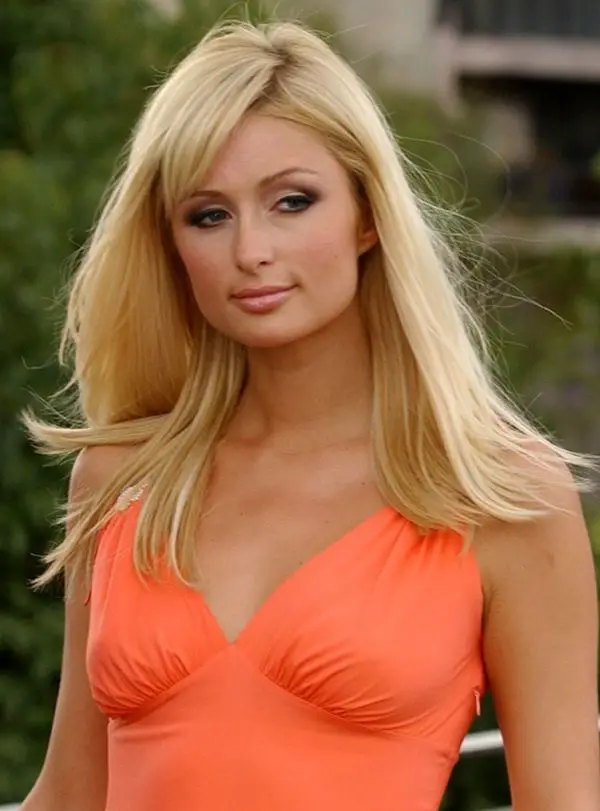 Nick Name: Star
Date of Birth: February 17, 1981
Ethnicity: Multi-ethnic (Irish, English, German, Norwegian, Italian)
Religion: Romano Catholic
Zodiac Sign: Aquarius
Birth Place: New York, NY
Residence: Beverly Hills, California
Nationality: American
Education: Buckley School and St. Paul the Apostle Church and School in New York; Marywood-Palm Valley School in Rancho Mirage, California; Convent of the Sacred Heart in New York; Provo Canyon School in New York; Canterbury Boarding School in Connecticut and Dwight School in New York, where Paris dropped out of high school as a junior but went on to clinch her GED.
Occupation: TV Personality, Actress, Singer, Producer, Socialite, Businesswoman, Model
Net Worth: $100 million
Paris Hilton Measurements
[ads1 id="alignright"]Measurements: 34-25-35 inches
Height: 5'8″ (1.73 m)
Weight: 115 lbs (52 kg)
Natural Hair Color: Blonde
Natural Eye Color: Dark Brown
Bra Size: 34B
Dress Size: 6
Shoe Size: 11
Distinctive Features:
She wears tinted (blue) contact lenses.
Paris was the true pioneer in the "celebutante" wave – new celebrities who are perceived as having become famous not for their talent, but for their immense wealth and contrarian social behavior. Hot on her heels in this wave is Hilton's childhood friend, Kim Kardashian.
The name 'Paris Hilton' has become a household name for liberal sexual culture in America.
In addition, she is also known for hopping frequently from one relationship to another, breaking several engagements in the process.
Brand Endorsements:
In numerous Paris Hilton stores spread all around the world, the Paris Hilton brand has been affixed to shoes, handbags and even watches. But her greatest branding success is her series of perfumes, which is reported to have raked in more that one-and-a-half billion dollars. She has also endorsed other major brands, most notably T-Mobile and Fila.
Best Known For:
Paris' big break came with her role in "The Simple Life", a reality TV series in which, alongside her friend Nicole Richie, she left her glamorous life behind to experience the ordinary America. The show was immensely popular, and was picked up for more seasons. Her name is also associated with hard partying and run-ins with the authorities; her widely distributed 2001 sex tape played a big role in building her indulgent, care-free persona that became synonymous with her public identity.
Paris Hilton's Family:
Richard Howard Hilton – Father (businessman)
Kathy Hilton – Mother (retired actress)
Siblings: Nicky Hilton, Conrad Hilton and Barron Hilton
Other: Kyle and Kim Richards, both aunts of Paris's.
Paris Hilton Dated:
Quite a number of people have been rumored to have had flings and one-night-stands with Hilton. Few among these have actually lasted for a significant period of time:
Rick Salomon (February to June 2001) – He was the other participant in Hilton's sex tape, released in 2003 as "1 Night in Paris". He is a film producer who has also been involved with other high-profile celebrities.
Jason Shaw (May 2001 to February 2003) – This relationship with model Jason Shaw went on for quite a while, they even got engaged but later broke it off.
Nick Carter (December 2003 to July 2004) – Nick is a singer-songwriter who was a member of Backstreet Boys. This was a troubled relationship, with Nick later expressing extreme dissatisfaction and unhappiness with it.
Chad Muska (August 2004 to February 2005) – Muska is a professional skateboarder. This was one of Hilton's more quiet relationships, with relatively much less drama.
Paris Latsis (August 2005 to May 2006) – A member of a wealthy Greek shipping family, Latsis dated and even got engaged to Hilton for a few months before she ended their engagement.
Doug Reinhardt (February 2009 to April 2010) – Doug is a baseball player and television personality. They dated for over one year, and were at one time rumored to be close to taking it to the next level, before the relationship abruptly came to a halt.
River Viiperi (September 2012 onwards) – Eleven years her junior, model River Viiperi has been described by Paris as a man she would like to start a family with.
Paris Hilton's Personal Trainer:
She launched her modeling career by getting into T Management, a New York modeling agency belonging to billionaire Donald Trump. While at the agency, she managed to get several minor roles in entertainment, eventually landing one of the lead roles in "The Simple Life" in 2003. She has trained with Teddy Bass.
Paris Hilton's Favorite Things, Facts and Hobbies:
Paris, Kim Kardashian and Nicole Richie were good childhood friends.
After dropping out of high school as a junior, Paris was home-schooled for her high school GED.
In the 2008 US presidential campaigns, John McCain compared Obama's popularity with, among others, Paris Hilton. In response, Hilton made a parody video that became an instant national hit.
Her great-grandfather was Conrad Hilton, the entrepreneur who founded the Hilton chain of hotels.
Her sex-tape made Paris famous almost overnight, helping add buzz to the launch of her career in the limelight.
Real Housewives of Orange County" star Kyle Richards is Paris's aunt.
Hilton's favorite things include sushi (food), Damien Hirst (artist), golf (sport), Sharon Stone (fashion), Spunk (drink), pink (color) and Mykonos, Greece (destination).
Her verified Twitter account is @ParisHilton