[ads1 id="alignright"]Jennifer Farley, better known as JWoww, has been rather frank and outspoken about the rumors that she may have undergone breast augmentation sometime in the not-so-distant past.
She has rarely been hesitant about putting her perky cleavage on display, or even revealing the temporary scarring that the alleged plastic surgery left behind.
Apparently, her alleged previous breast augmentation had been botched.
In her recent pictures, it has been noticed that her breasts are apparently uneven, which makes many speculators wonder whether she may eventually get that fixed through another plastic surgery.
Despite being open about the fact that her supersized breasts are a result of implants, JWoww has consistently maintained that she has never and will never go for any facial cosmetic surgeries. She has claimed that any changes that have been noticed in her facial features can be attributed to new makeup techniques and weight gain. However, rumors will be rumors.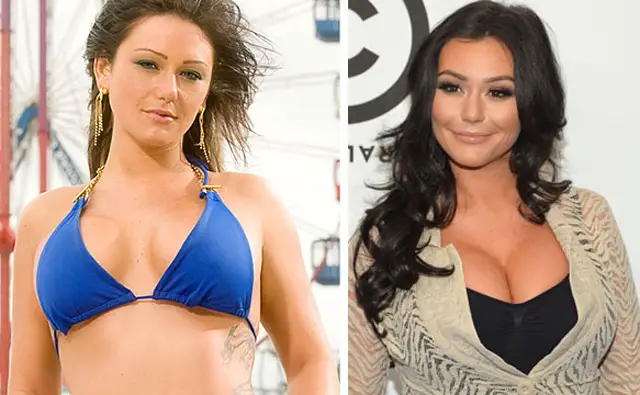 There have also been rumors that JWoww may have gotten Botox injections pumped into her face, which was already overly-shiny and smooth. However, these rumors have been blatantly denied by JWoww.
As of lately, there have also been speculations that she may have undergone liposuction since her stomach appears to be uneven. The fact that her lips appear fuller than before have also led many to suspect that she may have gotten fillers injected.
JWoww even has her own explanation as to why so many people have noticed that her face looks different and believe that she may have had some work done.
She has claimed that it is all because of her "great" makeup artist. She described him as a "drag queen" and whenever she wanted to sport bigger cheeks or bigger lips, he helped her achieve it, through makeup that is.
Apparently, at some point, JWoww even lost 20 pounds of weight. Considering that she has been honest about the fact that her breasts are not exactly natural anymore, perhaps she is telling the truth about her face.