[ads1 id="alignright"]In an interview this year, Katy Perry claimed that she has never had any plastic surgery, whether on her cheek, chin, nose, or "tit." She even referred to herself as an "au naturel product".
However, it seems rather unlikely that Katy can look so different in just a few years without going under the knife.
Her facial structure from her early singing career has definitely transformed over the years. A variety of E! Entertainment photos reveal that a teenage Katy was not as attractive as she is now at the age of 29. Naturally, it seems as if the reason that notable magazines choose to feature her on their top covers is because she had her appearance altered through plastic surgery.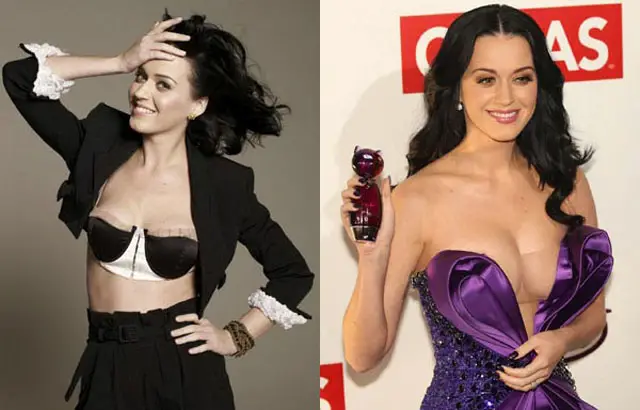 However, Dr. Michael Salzhauer, a renowned Miami-based plastic surgeon, claims that there is apparently nothing out of the ordinary about Katy's face. His explanation is that facial composition can be significantly affected if botox is applied to the forehead or fillers are applied to the lips. Facial plastic and reconstructive surgeon Dr. Paul S. Nassif also shares this opinion and his explanation is that her young face is simply hidden behind strokes of makeup.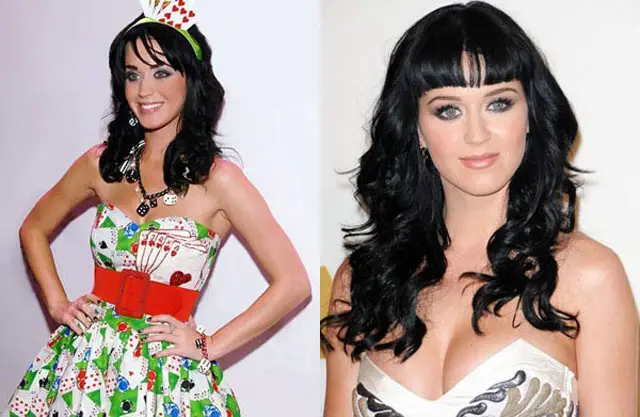 Rumor has it that Katy may have undergone breast augmentation surgery. However, according to Katy herself, she used to pray to God for "boobs so big that she could not see her feet when [lying down]." Apparently, God listened to her. Moreover, it has been pointed out Katy would not be wearing bustier attire to support her large breasts if she had plastic surgery since fake implants do not require support.
Again another plastic surgeon, Dr. Walden, has also verified that there is nothing out of place about her breasts as well. It seems that all speculations attempting to prove that Katy Perry has gone under the knife has been effectively refuted at some point or the other, so it might be true that the 29-year old singer is a natural beauty.