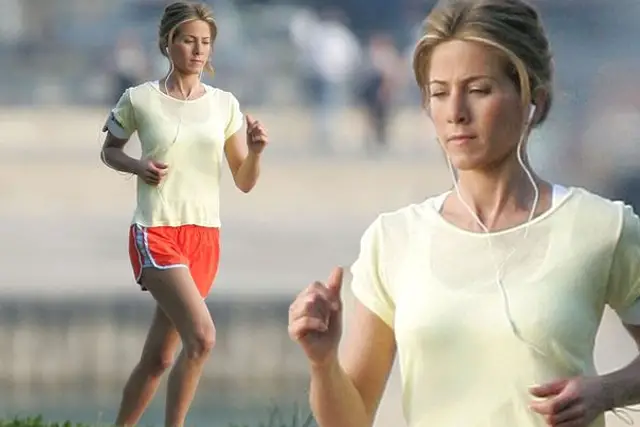 [ads1 id="alignright"]There is no denying that Jennifer Aniston is one of the most beautiful women in Hollywood right now, despite not being a young woman anymore.
According to her, she owes her good looks to a healthy lifestyle that involves regular workouts and a well-balanced diet plan which she abides by as much as possible.
She is also a firm believer in eating natural products that boost a person's natural fitness when consumed regularly over time, a good reason for her to cut back on junk food.
Like we said, Jennifer likes to work out as often as time allows her to, even when she's on the road and may not always have access to gym equipment. When she's at home, she sometimes takes Taryn Toomey's exercising class which she's a big fan of.
She also enjoys working out at the gym with her trainer, exercises that involve throwing heavy boulders around, doing battle ropes, lifting weights, and pushing medicine balls. She got into the habit of doing battle ropes when she was filming 'We're the Millers' which quickly became one of her favorite exercises.
At the same time, she also does around half an hour of elliptical exercises that stimulate her low back and hip muscles. Not only that but she also raises the incline, runs for about two minutes or so, and walks for at least another two minutes between exercises.
Jennifer also understands that mental wellness plays a big role in a person's physical and mental development, for which reason she tries her best to remain positive at all times no matter what challenges she faces.
Also worth mentioning is that she practices Yoga on a regular basis, much like many other success-driven personalities in showbiz who share her positive outlook on life. She is particularly fond of the balance Yoga exercises provide.
Last but not least, she is also a big fan of sleep revolution exercises made popular by Arianna Huffington. As such, she leaves her phone outside her bedroom for a more peaceful and uneventful sleep.