Benedict Cumberbatch Personal Details
Birth Name: Benedict Timothy Carlton Cumberbatch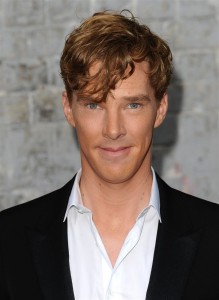 Nick Name: Ben
Born: July 19, 1976
Ethnicity: White
Religion: Agnostic
Zodiac Sign: Cancer
Birth Place: London, UK
Residence: London, UK
Nationality: British
Education: He attended Harrow public school at which he was awarded an arts scholarship. Afterwards, he studied drama at the University of Manchester.
Occupation: Actor
Net Worth: $4 million
Benedict Cumberbatch Measurements
[ads1 id="alignright"]Height: 6'1" (1.84 m)
Weight: 174 lbs (79 kg)
Hair color: Dark Brown
Eye color: Blue
Biceps: 15
Chest: 42
Waist: 34
Shoe Size: 11
Distinctive features: Sharp cheekbones, piercing stare, rich baritone voice
Best known for: His role as Sherlock Holmes in BBC television show 'Sherlock'
Bennedict Cumberbatch Family:
Father – Timothy Carlton
Mother – Wanda Ventham
Bennedict Cumberbatch Dated:
• Benedict broke up with his girlfriend of 12 years, Olivia Poulet, in 2011. Benedict met her while he was studying drama at the University of Manchester.
• Benedict has been rumored to be dating Liv Tyler.
First Film: In 2006, Benedict played William Pitt the Younger in 'Amazing Grace'.
First TV appearance: He appeared in 'Tipping the Velvet' as Freddy in 2002.
Personal trainer: Even though he doesn't employ a personal trainer, Benedict puts a lot of effort into building himself for the roles he plays. For his recent 'Star Trek: Into Darkness' movie for example, he had to go from a 38 chest size to a 42 by eating 4,000 calories a day.
Benedict Cumberbatch Favorite Things, Facts & Hobbies:
His parents are both successful actors and didn't want him to follow in their career path.
He is a big fan of Robert Downey Jr.
Benedict used to paint oil canvases while he was studying at Harrow. he was also a member of the rugby team.
His grandfather was a decorated submarine officer in both World Wars.
Initially, Benedict wanted to pursue law at the university but choose acting because of a childhood desire.
He is a big fan of extreme sports like scuba diving, skydiving, hot-air ballooning, and high speed motorcycling.
Benedict Cumberbatch was ranked at number one in Empire's Magazine '100 Sexiest Movie Stars of 2013'.