[ads1 id="alignright"]Snooki is expecting her second child as of lately, but back when she gave birth to her son on August 26, 2012, she underwent drastic and noticeable post-pregnancy weight loss.
This led to the circulation of rumors that Snookie had undergone GBP (Gastric Bypass) surgery, lipsosuction and/or other cosmetic surgery in order to lose weight.
Rumor also has it that Snooki managed to return to her pre-baby shape because of having a breast lift and tummy tuck.
Recently, Snooki's smiles have also revealed that she may have also undergone cosmetic dentistry, while signs of possible dental veneers, straightening and whitening have also been seen.
Indeed, her party girl image is gone much like her days on the reality TV series Jersey Shore. However, Snooki apparently gives credit to a lifestyle overhaul for the impressive 42 pounds of weight, which she lost after giving birth to her son, rather than plastic surgery.
Of course, it may seem hard to believe that such a dramatic weight loss did not require at least some plastic surgery. "I've never been under the knife", claims Snooki. According to Snooki, she lost weight because she felt she needed to "get in the gym," eat healthy and work out in order to set a good example for her son.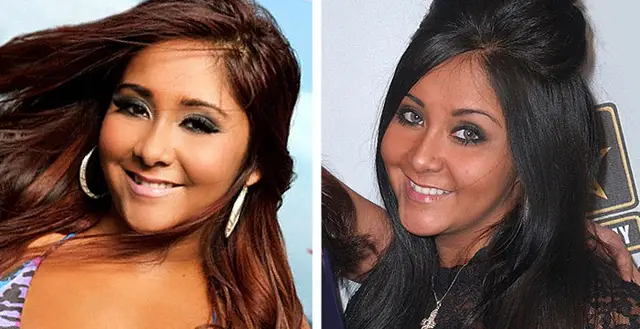 Perhaps Snooki is just not willing to admit the truth, or maybe her impressive and whopping weight loss was indeed all-natural. However, it is quite bold of her to reveal that she is actually considering getting breast implants. Apparently, ever since she has given birth, Snooki thinks that her breasts look "disgusting".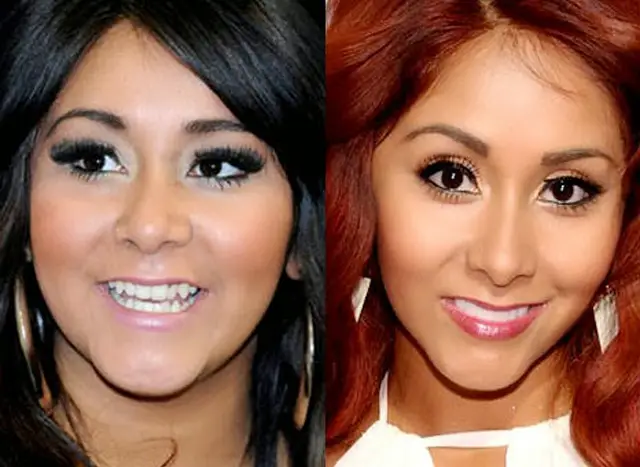 Apparently, Snooki is not so happy about how her breasts "sag." It made many people wonder that if she is not satisfied with her "boobs" and wishes to change their appearance with a boob job, then it could very well be possible that she resorted to cosmetic surgeries to shed all that weight as well.