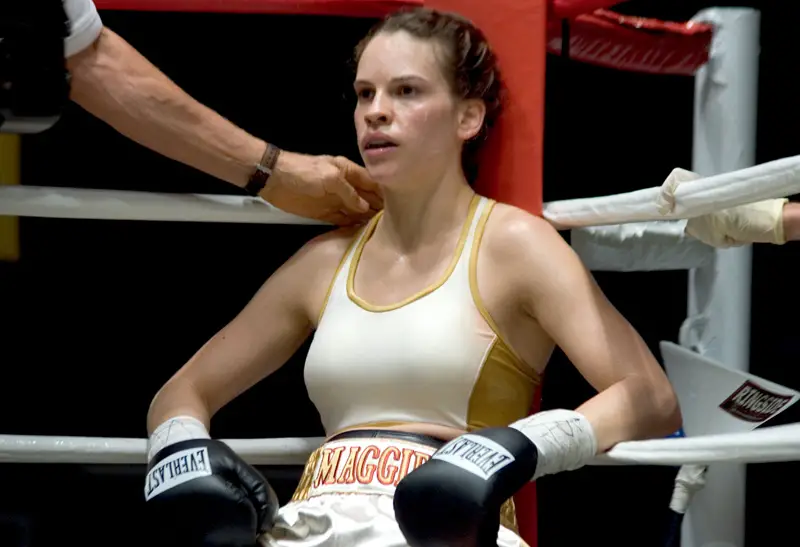 [ads1 id="alignright"]Those of you who saw how Hilary Swank's character looked like in the movie "Million Dollar Baby" will remember how healthy and strong her body was.
Playing the role of a professional boxer is no easy task, which is why she had to follow a specific fitness program and diet plan that would help her gain a lean body for the job.
Hilary has always been fit due to being actively involved in sports during her high school days. She, however, had to train a lot more before she could pass as a boxer.
High-protein diet plan
Her workout plan required her to intake 4000 calories a day so as to gain weight quickly. She would therefore eat 210 grams of foods rich in protein and 50 g of carbs. Egg whites and protein shakes formed the protein package.
She managed to cover the protein requirements via intake of a meal rich in protein after every 4 and a half hours.
She also drank a lot of water and flax oil as often as she could. Flax oil helped her metabolism work faster, digesting the proteins and burning fat at a much faster rate than usual. This alone resulted in a 1000 calories intake every day.
A strict workout routine
Apart from following a specific diet, she had a personal trainer who helped her practice for 2 hours daily for 4 to 5 days a week. As part of this workout routine, she did exercises like bench-presses where she used dumbbells, and trained her legs via pushing her SUV on neutral gear.
She also managed to keep fit a long time after the filming was done via cycling, Krav Maga and Pilates. She also appears to be working out in her spare time as well, not as strictly as during the filming of 'Million Dollar Baby' of course, but quite often still.
During the film, she succeeded in gaining the weight required, a transformation that undoubtedly lead to her winning 'Best Actress' at the 77th Academy Awards.
She was also listed among the 50 Most Beautiful People by the People Magazine that year and the next one as well. Not to say that Hilary Swank isn't a beautiful woman to begin with, but her lean, muscular body certainly contributed to her inclusion to the list.