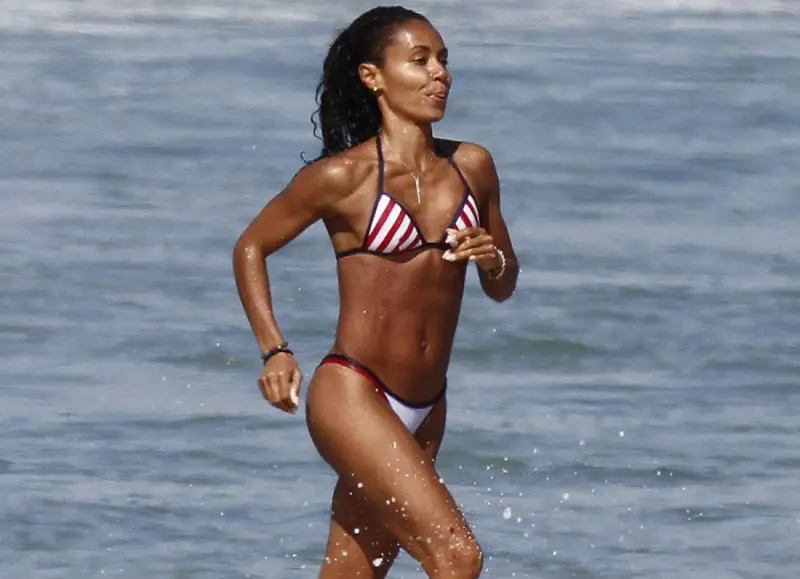 [ads1 id="alignright"]The talented Jada Pinkett Smith is a very dynamic person by all standards. She is a singer, businesswoman, actress and songwriter.
However, most people, especially the younger ones know her as the wife of movie star Will Smith.
This superwoman manages to maintain a sexy body, in spite of all the roles she has to play, and in spite of the fact that she is a mother of three.
This, of course, can only be attributed to a consistent workout routine. Let us delve into what this energetic star does to keep her body young, beautiful and sexy at all times.
The first facet of her workout routine is yoga. It not only makes her body flexible, but it also keeps her mind at peace. This is crucial since she has to juggle a lot of things simultaneously. Jada's other favorite exercise is cardio.
Cardio exercises keep her heart healthy while enhancing her overall fitness. Also, Instead of taking the elevator, she prefers to take the stairs and she often has weights with her even when she's not working out.
This way, she burns off calories, keeps her heart rate up and yes, gets a body that is well toned.
Should we take the time to look at Jada's legs, we'll se that they are shapely and sexy, again something that can be attributed to working out regularly.
She uses a sled machine to keep her legs shapely. She also puts a harness on and pulls things so as to keep the legs toned.
To keep her arms in shape, she uses lightweight lifts, a crucial element in a workout routine. For her lower body, she does hip thrusts, split squat twist, stair jumps, squat raises, single-leg deadlifts, as well as lateral lunges and reaches.
It has to be said that she always starts off with cardio before doing any of the 6 exercises we talked about.
Furthermore, to ensure that she is in peak sexual condition at all times, Jada Pinkett Smith performs Kegel exercises as often as time allows it.
You may argue that Jada has great genes. In fact, she really doesn't stick to an extremely strict diet plan. She just eats all sort of 'healthy' foods that she can get her hands on.
Some of her favorites dishes include: rice, pasta, fresh fruits and veggies for snacks, toast, English muffins, hard boiled eggs, and protein bars.
Once in a while, she likes to have a chocolate chip cookie or McDonald's French Fries. Furthermore, She enjoys cooking desserts like her favorite 7-Up cake, but she admits to not being a great cook.