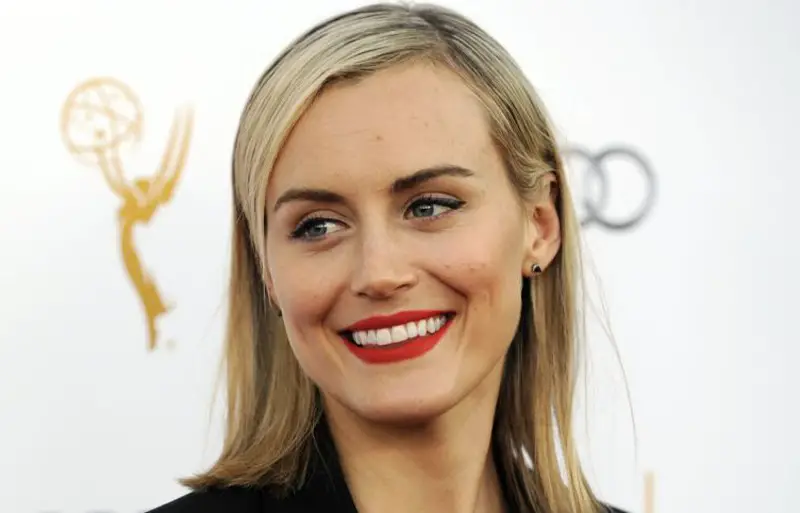 [ads1 id="alignright"]Believe it or not, but the star of 'Orange is the New Black', Taylor Schilling, does not seem to have much of what can be referred to as a beauty routine, apart from the fact that she never leaves the house without putting on makeup.
Combine her natural ability to put on the right amount of makeup to not look too plastic with her natural good looks, and you have the reason why Taylor looks as well as she does at all times.
You see, her role in a movie determines how she puts on her makeup for the most part.
For instance, for 'Orange is the new Black' she just put 'a bit of concealer and foundation', a touch of something dark around the eyes, lip balm and mascara.
Then again, when acting out the role of a prisoner, she will 'ugly' the hair by allowing goop in it. This makes it look greasy. She may also fail to take a shower every once in a while to give herself a more rugged look.
She also shaved her legs during 'The Lucky One' premiere. One of her best looks was during the Emmy red carpet. This clearly pointed to a well thought about makeup application. Here is what she did:
She prepared her skin with face oil and used her fingers to apply foundation. She then applied Tinted Moisturizer (Broad Spectrum SPF 20 Sunscreen).
She used High Coverage Concealer to cover small imperfections.
The Bonne Mine Stick Face Color illuminated her cheeks when she applied it to the apples of the cheek in pink glow. She then blended it with Metallic Crčme eye Color in Platinum on the back of the hand dabbing in a bit of Primer.
This combination was applied to the top of the cheeks, cupids bow, brow bone and the bridge of her nose, as it gave her skin a luminous look.
To ensure that her makeup stayed in place all night, she applied Secret Brightening Power.
As we can see, Taylor may not have a strict beauty routine to which she sticks, but she does put on makeup during events when makeup is needed. Interestingly enough, Taylor isn't a big fan of wearing any sort of makeup when she is off camera.